By: Becky Schmidt
Originally Published in: Volleyball Steps to Success
Provided by: Human Kinetics
Four-Corners Setting Drill
Divide players into four lines, each beginning at the corners of the court (end line and 10-foot [3 m] line). The ball should travel counterclockwise so that you are squaring up to the person to your left and setting along the line that is on your right (figure 3.3). Follow your set to the next line and continue the drill. When you have mastered keeping one ball going, add another at the opposite corner of the court. Can you handle four balls?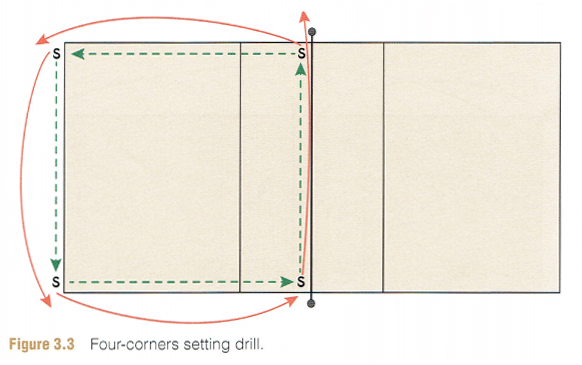 TO INCREASE DIFFICULTY
Add more balls to the drill.
Coordinate the height of the simultaneously set balls.
Allow players to forearm pass the ball to keep it off the floor.
TO DECREASE DIFFICULTY
Catch the ball when it's getting out of control and begin again.
Set the ball between 10 and 12 feet (3-3.6 m) high to give your teammates time to get to the ball.
Success Check
Keep your weight on your left foot.
Stay square to the target.
Keep thumbs back on contact.
Keep hands flat to target on release.
Finish balanced on right foot.
Score Your Success
20 sets or more without a ball dropping = 10 points
10 to 19 successive sets = 5 points
9 or fewer successive sets = 1 point
Your Score:
Butterfly Drill With Setter
Perform the same butterfly drill used in step 2, but add a setter where there was a target (figure 3.4). Six players, three on each side, prepare for the drill. The server is at the serving line in zone 1, the setter is at the net, and the passer is in zone 5. Both sides serve the ball at the same time to the passer on the opposite side of the net. The passers pass to the setters, who set the ball to the target after receiving the pass. The target moves to either the left- or right-side attacking position. In the butterfly drill you always follow your ball, so the setter follows the ball and becomes the target, who then moves to the serving location. The objective of the drill is to achieve 30 sets to the target.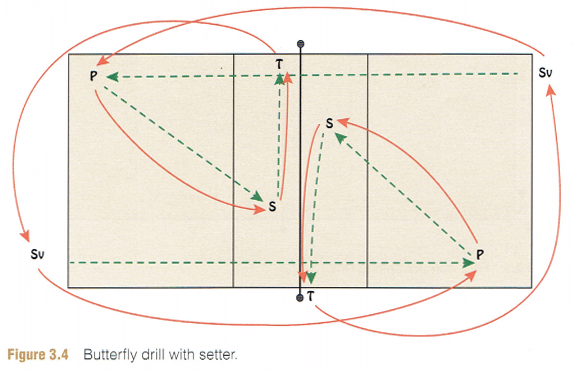 TO INCREASE DIFFICULTY
Speed up the drill with serves made faster.
Make the range of acceptable sets smaller.
Have the setter back set to the right antenna.
TO DECREASE DIFFICULTY
Slow the drill by making sure everyone is in position before the serve.
Provide a larger target area for the setter.
Success Check
Square up to the left antenna on every set.
Balance on the front foot.
Follow your set to get into coverage position.
Score Your Success
25 sets or more to the target in 3 minutes = 10 points
10 to 24 sets to the target in 3 minutes = 5 points
9 or fewer sets to the target in 3 minutes = 1 point
Your Score: