By: Paul Leon, Head Coach - UC Santa Cruz Men's Volleyball
Originally Published in: Coaching Volleyball
Copyright and Provided by: American Volleyball Coaches Association
There were a lot of memories to be made during the 2019 men's season, but something in particular must have stood out to the AVCA. Not long after the season ended,
I was approached with some questions about our use of timeouts - particularly, how we used them to great effect during the 2019 NCAA semifinals. I was surprised at first - what was it that caught their attention? I went back to rewatch the full replay, and before long it was all rushing back to me.
Picture the scene - the UCSC Banana Slugs were up two sets to none over the top-seeded Stevens Ducks. Up until this point in the match, the Slug squad had played with grit, which inspired confidence as the match progressed. Despite being down most of the second set, we continued to chip away at the opposition's game. When we won the second set, our spirits were high but the fatigue was real. Historically, we've not stayed the course when it comes to having confidence in closing games this past year. During the regular season, we allowed a handful of teams to extend four-set matches on us when we typically had control. Diving into this third set, we wanted to be all-in.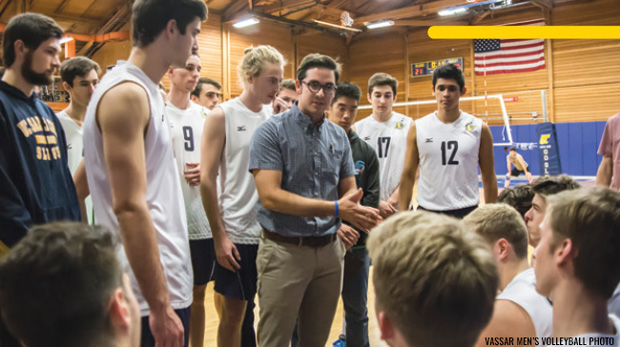 Fast forward a couple of exchanges and the score sat at 4-4 at the beginning of the third set. The point we had just lost came off a close hitting error deep, and Stevens was now back to serve. We lost the next two points due to our sets finishing tight despite receiving perfect passes, the score now 4-6. On the next ball, Stevens transitioned our manage play; 4-7. Another poor set made during the rally; 4-8. I substituted out my starting sophomore setter for a rookie freshman setter.
We won the following point with a side-out: a "smart" setting decision to our first team All-American outside attacker, who had 15 kills to his name already. The score was now 5-8. We got an an overpass kill off of a freshman's serve; 6-8. Our freshman delivered a splitting ace serve, closing the gap in the score to 7-8. Things seemed to settle again. Suddenly, an aggressive hitting error was made, making the score now 7-9. It's followed up by an unforced setting error by the freshman; 7-10. Stevens converts a great dig into a statement transition; 7-11. Finally, an unfortunate hitting error made by a freshman opposite makes it 7-12. Timeout!
The on-court players come over and take a seat for water and breath. Bench players take to the court for pepper warm-up and dance. I sent one assistant coach over to our 16-kill "go-to" player because we noticed that he looked flustered after the recent mishaps. He usually had been relatively quick about letting these moments go - we wanted to make sure that he did. Meanwhile, I quickly held a briefing with my assistant to discuss serve-reception seams and our best side-out option following the pass. We split up in order to divide and conquer.
Now, with one assistant reassuring the go-to player and the other assistant getting our passing line on the same page with serve-reception seam responsibilities, I was able to lay out some perfect and imperfect pass scenarios with setters, middles and pins. As mentioned, we had been in this situation often in our regular season. Even having to get this done in less than 1 minute and 15 seconds, there was enough time for us to:
lower the heart rate and hydrate
stop the opposition's momentum/ice the server
implement a tactical defensive/offensive game plan
reinforce being comfortable in these uncomfortable moments
include a fiery call to action from the team captain
The whistle blew and both teams returned to the court. I substituted my sophomore setter back in for a larger block. My passers aligned themselves to meet the serve-to-come. We returned the serve with a great pass, and our setter dished it outside to our big man for a clean kill. He now had 17 kills and the score narrowed to 8-12. Stevens returned the side-out; 8-13. We sent it back to make it 9-13, then decided to turn it on the boosters. Big block by freshman opposite; 10-13. Great dig transition; 11-13. Clutch ace serve; 12-13. One more block as the cherry on top; 13-13. Stevens had to call a timeout!
The rest of the third set proceeds as a grueling back-and-forth tug of war. Neither team wanted to give the other any room for separation. UCSC eventually pulls o the win, with a final score of 25
21. After rewatching the entire seminal match, I then understood the questions that the AVCA was fundamentally asking about:
When do you call timeouts and why?
What works and what doesn't work?
How do you structure the time given?
Coaches, before I go into each of the points above, your in inflections and demeanor are essential to the delivery of information. Every coach brings something different to the conversation, so my advice would be to remain direct and genuine. Personally, my approach is to remain calm and relaxed, even when I'm going crazy inside. An example of a great coaching demeanor would be Phil Jackson-esque; act like you have been there before. I'm all about positive reinforcements and maintaining stability during matches and practices. Regardless of a play's outcome, saying the player's name and telling them specifically what they did well goes a long way.
Example: "Jonah, way to contact that ball high!"
Or I especially enjoy shouting the praises across the gym. Everyone hears,Then players become aware that hustle plays = positive coach validation. Players crave validation for their efforts.
When do you call timeouts and why?
I believe there are many exceptions to my perceived notions of calling timeouts. Ultimately, I use timeouts as a means to disrupt the game momentum. That can be at any point of time within a set. As a standard principle, you should consider stopping play if the opposition is able to score more than 2 points from behind the service line, or when the score difference reaches 3–5 points during manageable stage of play. With constant moments of mental restarts, a team must train these mental reps during practice and understand how to handle success and failure in high-pressure situations.
Example: During the back-and-forth listed in my description above, Stevens went on a 5-0 point scoring run, followed by a UCSC 3-0 scoring run, before Stevens returned a 4-0 point swing. After our called timeout, we eventually went on a 6-1 run before Stevens called a timeout for themselves. Pressure was felt on both sides of the net early in the set. There was plenty to gain by winning the third set and everything on the line to lose. Nerves needed to be settled for the both of us.
What works and what doesn't work?
A particularly great idea that I learned from Mick Haley
is that when the opponent calls a timeout, have your players go to their position coaches. These are the moments to not take for granted, no matter the score differential. Teams can return to court with a solid plan of attack to earn more points serving and on defense. Position coaches can discuss opposition hitting, serving and blocking tendencies, and what minor corrections need to follow to slow the opposition.
The other side to this idea is when we cal our own timeouts. Remember to relax. Teams will feed off a coach's emotion. A coach will not be able to teach a new philosophy or new technique in one minute and expect that to hold up in match play. Here's some examples of what works and doesn't work when calling timeouts:
Does not work
Visible or audible frustration. As a coach, you have an obligation to lead by example.
Ignore the team for the duration of the timeout. A coach needs to be there for the highs and lows of performance play.
Call out an individual's poor performance in front of the entire team. This is very deflating to player. The entire team is responsible, not just one individual.
Neglectful score timeouts. Sorry, coach...if you're calling a timeout at 20-8, you missed your mark and you already lost that set without delaying the inevitable.
Long-winded stories or explanations. In these fast-paced settings, less is more. In addition, don't throw up volley stats all over your players. Keep it simple with active dialogue or precise stats that you want them thinking about.
Works
Have relevant information or personal thoughts on-hand to convey. I write mine down so that I can remember to share them during timeouts and to revisit for practice purposes.
Be organized with stats and collaborative with suggestions.
Allow time for the team to express their own perspective and opinions.
Make yourself eye-level with team. If they are standing up, coach stands up. If players are sitting, coach takes a knee. Direct eye contact helps remind them to stay in the moment.
A hockey proverb: "If it ain't broke, don't fix it." Give the mad scientist coach a rest when your team is playing exceptionally well. Be there to enjoy it with them.
How do you structure the time given?
At stoppage of play, regardless of which team called a timeout, I personally enjoy receiving the players from the court with high-fives As the players take their seats, I will meet briefly with my assistant coaches for 15-20 seconds. After deliberation, I'll meet with the team and be as concise as possible for 30 seconds. If needed, assistant coaches can do the same to individuals or positions. During our timeouts, we refuse to linger on points that have already passed, won or lost. We can always revisit those plays after match time. Keep the team in the present, so they'll be forward-thinking on what can be done to get a side-out or point-scoring opportunity from behind the service line. However, the next point remains undetermined, and I believe upcoming plays can be willed with visualization and staying technical, similar to joust plays. Unused time at the end of timeout can go to captains to unify and fire the team up.
In closing, timeouts can be an invaluable opportunity for coaches to effectively communicate with their teams and potentially have a powerful impact on the final result of the set or match. More importantly, it is a credible moment to underscore the importance of program culture and team dynamics. In my opinion, timeouts are circumstances that give coaches the chance to be well-poised and prudently hopeful for the future.
Now, having made it to the National Championship and looking back in retrospect, the period of season, the opponent and the player-coach personnel are all important factors in the delivery of a successful timeout. I would like nothing more than to return to the NCAA playoffs in 2020. With patience and the attitude to learn more, maybe we'll earn a bid, and maybe we won't. Ultimately, the best way for us to qualify is to keep putting ourselves in that same position to repeat.