I was talking to a coach I mentor last week and he said something that stopped me dead in my tracks.
This is a guy who invests a ton of time and effort into becoming the best coach he can be and building his program stronger and stronger.
The effort he's made has really started to pay off too. This past year, his program had its best season in decades and it was only his second year as head coach.
I worked with him early in the school year, before his season started. And this summer, he signed up again so we could work on a plan for him to take things to the next level. Part of that process is digging deep into his own experiences as a coach - what does he love about it and what frustrates him about it.
Everything seemed to be going great for him and his team, so I was really surprised to hear his immediate response…
"I know our kids can get a lot from our program that'll help them for life, but it drives me crazy thinking about how much time I put in and how uncommitted so many of them are. If they're not committed they won't get the value and we won't get better."
Man - that cut right through me. That was something that I could totally relate to for years, but, at the time, just couldn't put my finger on it.
I wanted to be a transformational coach AND I wanted to win, but I felt like if I was the only one that was fully committed, neither would ever happen and we'd just be mediocre forever.
I couldn't live with that.
It took me some time, and a lot of trial and error, but I finally realized the solution was slapping me right in the face. (I never claimed to be the quickest learner.)
It all comes back to the foundation. When I originally worked with this coach earlier in the year, he wrote out his vision for his program, defining his philosophy and choosing core values that aligned with who he was and what he wanted to accomplish. He'd never done this before. Most coaches I talk to never have. He was psyched because he felt like it gave him direction, purpose and a framework he could use to make difficult decisions easier. The tough stuff like playing time, discipline, even strategy is always so much easier when you have a foundation to guide you!
I asked him to walk me through how he used his vision, philosophy and core values with his team this year.  He smiled as he told me about the bulletin board he put up in the team room that listed the program's core values, and the handout he gave to his kids the first day of practice.
"Awesome!" I said. "Then what?"
He didn't have a great answer. And I get it! I'd been guilty of the same thing.
As best I can tell, about 90% of coaches never bother to put real thought into creating a compelling, meaningful vision, philosophy or values for themselves or their program. Of the 10% who do, probably about 7% roll out that stuff to their team at the beginning of their season and never come back to it.
Yep. Even after I joined the "elite 10%," I also made the mistake of talking about our values in pre-season and letting them gather dust the rest of the year. The truth is, for those coaches and their programs, their core values never really become core values. They're just abstract words on a whiteboard, bulletin board or piece of paper. And if they're just words, they're not helping you build your program or build stronger young men and women.
What I eventually realized is that making your vision, philosophy and values more than just words - making them truly meaningful - is probably the single most powerful (and also most misunderstood!) weapon we have as coaches to build deep, intrinsic motivation and commitment from your whole team.
Take a quick look at the kids on your team today...
If you haven't noticed, they've been brought up in a slightly different culture than what most of us experienced when we were younger.
These kids have never known a world without the internet. They're the first generation that literally doesn't need you (or any adult) for knowledge - they can get it online. They don't need you (as much as they used to) for what you know about the sport, but for what you bring to them over and above that.
These kids have never known a world without September 11th, terrorist attacks on US soil, even regularly reported school shootings. And it's scary. They look for cultures where they feel safe and supported more than ever.
These kids have never known a world without social media. They've grown up with Snapchat and Instagram friends (Facebook's for their parents!), and a world where it's easier to make connections digitally than in the real world. But those connections lack substance. Kids are looking for environments where they can form meaningful relationships by rallying around a common culture.
It's easy to get lost in conversations about Generation Z talking about entitlement. But what often gets glanced over, but is backed by the research, is that this generation of kids isn't afraid to work hard for a meaningful cause. They want substance. Give them something significant to be a part of and you've got them. Make the connection to something greater than just the sport itself and their sold.
In fact, creating this kind of environment's had the craziest impact on our middle-of-the-road kids - you know the ones we all have on our teams - the ones who weren't the most motivated, who'll never be our stars, but are still an important part of our rosters. For a lot of these kids, this type of culture was the gateway they needed to develop the true intrinsic motivation that creates champions.
For it to work, though, you've got to keep coming back to it. Coaches who mention their vision, philosophy and values at the beginning of the season and then get caught up in all the other demands coaching places on us, are missing one of the most significant opportunities available to create complete buy-in from their kids and it's possibly even more & with today's kids than ever before.
Great…so how is it that we can keep coming back to our vision, philosophy and values when it always feels like there aren't enough hours in the day?
Glad you asked! Here are some quick ideas you can use right now:
Use the bookends of your season.

Creating significant events to begin AND to end your season that revolve around your philosophy and core values not only set the tone for the season and the off-season but also reinforce everything that happened in between.

Instead of a meeting in your locker room or on the practice field the first day, how about a half day team building retreat with activities that reinforce your values? It doesn't need to be anything fancy - it can even be at your school! Make it fun and memorable and you're off to a great start.

The end of the season is the same way. Almost every team has some kind of final banquet. How about using the banquet as an opportunity to reinforce your culture by rewarding the athletes that best exemplified your values over the season? Show your kids what's important and set them up for success in the off-season at the same time!

Talk the talk…everyday.

We all spend a few minutes each day talking to our kids at the beginning and end of our practices, so what is it you're talking about? Is it mistakes they made in their last game? Your schedule? A quick team breakdown or chant?

There's no better, ready-made opportunity for you, each day, than these moments to bring it back to your philosophy and values. Call out something positive you saw. Give them a specific value to focus on that day and talk to them about what behaviors demonstrate that value. Tell them a story about another team or athlete that ties back to your values.

The bottom line here is the more "reps" you get, the more it'll sink in!

Walk the walk too.

They say talk is cheap, so what can you do to translate your values into action? Let's be honest - none of us has time in our practices for 20-minute trust walks or lengthy discussions on our feelings… we have skills to teach, drills to run, scrimmages to play.

So how do we create practices that actually reflect our philosophy in a way that is impactful, efficient and useful? We need to be smart about it.

Two great opportunities we get each practice are during our warm-up at the beginning of practice, and during conditioning activities towards the end. Changing up our same-old routines not only keeps kids engaged, but gives us the chance to incorporate some team-building activities that build on the kind of culture we're trying to create.
There are dozens of ways to do stuff like this depending on your sport. You can even turn these activities into small-group competitions to keep it competitive.
If you've taken the time to create a vision people can get excited about, a meaningful philosophy and a deeper set of core values, you've done the hard work required to start building a championship program. Why wouldn't you use it to your full advantage? You've created a powerful weapon. Now let's use it to turn your kids into a committed team, excited to put in the work required to be champions on the field, court, mat, rink and in life.
Taking the time to really get these right was the turning point in my coaching career and the turning point in our program. Hoping it will be for you too!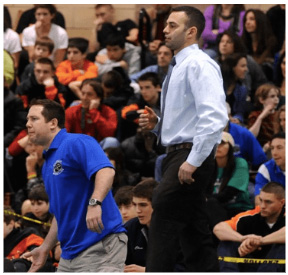 Pete Jacobson has been a varsity HS coach in New York for almost 20 years. He also works with coaches of all levels through WinSmarter to help them get better at what they do, have a greater impact and go home happy. Check out 10 Insanely Powerful Tactics for a Dominant Team Culture for some of the most impactful tactics you can use to build a Championship program quickly.