And how you can give your team what they need, when they need it most...
Hope you're staying healthy and sane in this crazy environment!
Wanted to share something pretty cool with you today.
So, you guys know I'm a high school wrestling coach here in New York. As you've probably heard it's been pretty crazy up here the last week. But more on that in a second.
Our wrestling season finishes with the State Championships at the end of February - so we finished just before things got bad.
Sure, we have a lot of off-season stuff going on usually, but, the truth is, for a lot of our kids, their season is over in February.
This Monday, though, in the middle of all this COVID-19 insanity and even though it's not our season right now, we had a "practice".
We had a "virtual wrestling practice" online via webinar.
And it was awesome. Awesome for our kids, and, if I'm being honest, awesome for our coaches too.
When schools started closing and it became obvious that our lives would look dramatically different for at least the next few weeks, my assistant coaches and I started talking about how we could be there for our kids.
It might not be the wrestling season, but we saw the opportunity to leverage the strong, positive culture we had in our program to provide some support for our kids in these crazy times.
Here's what we did:
Keeping in touch
First, we had our coaches reach out individually to each of the kids on our team, just to check in, to see how they were dealing with anything and to see if they needed anything. We connect with our team using Remind, which is a great app for this sort of thing.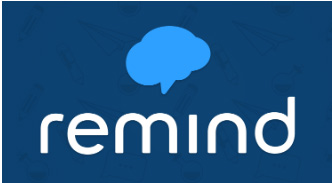 We always talk about how our program is a family and how we care about our kids as people first, not just wrestlers, and we felt like this was a great opportunity to demonstrate that with our actions, not just our words.
We emailed our parents, as well, to let them know we'd be reaching out to their kids, and asked them to let us know if there was anything specific we could do to support their child throughout this event.
We felt like this was all the right thing to do by our kids and our families, and our goal is to come out of this crisis as an even stronger program than when it started.
Getting the team back together
As we reached out to each kid, what we kept hearing was that kids were uncertain about the next few months. Many were feeling down that their off-season training plans were derailed and they were losing the opportunity to reach their goals next year. Others felt guilty that they were being "lazy" - sitting around all day, eating poorly and not being active. Some just felt lonely - that they were suddenly disconnected from their friends and community.
So, we decided on a new strategy - to host a "virtual wrestling practice" - an online team meeting via webinar to get our guys together for a little while, lighten the mood and talk through whatever was on their minds.
We set a time, let the team know what it was all about and sent them the instructions to log-in.
To host the webinar, we used a free piece of software called Zoom. It was pretty easy to figure out.

We had 32 kids show up for practice - even our graduating seniors! It was a great experience - SO glad we did it!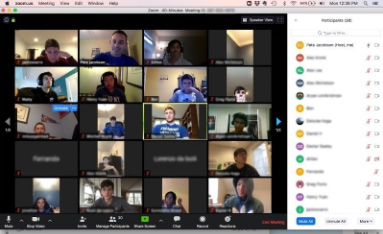 Here's exactly how we ran it:
We started off by giving the kids a few minutes to just all talk to each other and catch up. Figured we'd kind of make it like the socializing our kids have with each other in the locker room and before practice.
When I started things up, I set a few ground rules to make sure everything ran smoothly:
We decided who would talk when, so not everyone was trying to talk over each other
We made sure kids knew to keep everything positive and appropriate - this was still a team event even if it was a bit unorthodox!
One of the guys told a "Joke of the Day" - that's how we usually open up our practices before we start warming up
Then we jumped into it…
Guys talked about how they were dealing with being cooped up at home, what they were doing for workouts, and lots of other stuff like that.
As a group, we talked a bit about things like their mindset right now, working out at home with little or no equipment, nutrition, and overcoming adversity.
We let kids ask any questions they had. Sometimes I'd answer them, sometimes I'd ask the group what they thought.
Want to see a summary of exactly what we discussed that you can use with your team too? Grab a copy right here!
We ended by watching an NCAA Finals match from last year together on YouTube - Zoom let me share my screen with everyone and that was pretty cool too. Our guys definitely enjoyed that.
Before we finished up, I asked the guys for any feedback on our "practice", if they wanted to keep having these things, and any ideas they might have to make them even better.
There were a bunch of great suggestions - more on that in the future. But one suggestion from our kids we're implementing right away is something we ended up calling "The Coach Pete Workout Challenge".
Here's what it looks like: Each week on Monday, I'll post two workouts our kids can do on their own sometime during the week.
The challenge is for each kid to complete both workouts and record their results on a shared Google spreadsheet I created. The spreadsheet and seeing their teammates results should give them a little motivation, accountability and fuel some competitiveness in them.
We'll see how this goes, but I'm pretty psyched about it!
We did it. So can you.
Guys - since we did this Monday, we've gotten amazing feedback from our athletes and our parents. Our principal even heard about it through one of our parents and emailed me to thank me for supporting our kids like this!
It makes me feel really good to know we're using our culture to support our kids in unconventional ways in this time of need - and we're making that culture even stronger in the process!
Honestly, it was so easy and so impactful I'd recommend everyone try something similar - it beats sitting at home by yourself all day!
I'm really looking forward to our next "practice" - we're planning on doing one or two a week until school opens back up - and I'm sure what these practices look like and we talk about will evolve over time.
If you'd like to get the specifics of what we talked through with our kids about managing their time, training and continuing to improve while they're all stuck at home, you can grab a copy here.
Let me know if you have any questions!
Talk soon and be well!
Pete Jacobson has been a varsity HS coach for almost 20 years. He also works with coaches of all levels through WinSmarter to help them get better at what they do, have a greater impact and go home happy. Check out 10 Insanely Powerful Tactics for an Amazing Team Culture for some of the most unique, impactful tactics you can use to build a Championship culture quickly.