Emphasizing Rebounding In Practice
By Matt Margenthaler - Head Coach, Minnesota State University - Mankato
Originally Published - Time Out Magazine - National Association of Basketball Coaches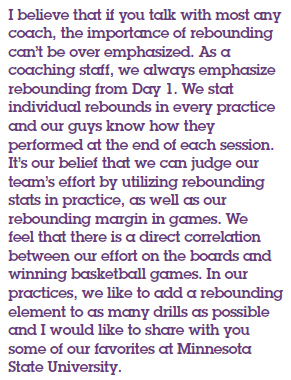 Shell Drill with 4 or 5 (Diagram 1):
Objective: Defensive positioning and principles with emphasis on finishing with rebound for both defense & offense.
Description: (1) Token offense passes ball around to each position, forcing defense to adjust positioning according to where ball is at on the floor and the designated action. (2) Basic Action -Jump to ball, Ball-Cut, Dribble Penetration, Opposite Flash, Skips. (3) Additional action -Post Dig/Trap, Drive & Kick, Screen Coverage. (4) End each action with a shot (from starting line) where ball is then `live'. (5) If give up 0 rebound, 5 pushups for D. Rotate 0 to D to Back of line.

4 on 4 on 4 Rebounding (Diagram 2):
Objective: Strengthen rebounding, defensive principals, toughness, and communication.
Description: (1) 3 teams, Live, and Continuous. (2) Coach starts each possession by passing ball to any offensive player at the half court line. Coach controls how quick the transition is from one possession to next. (3) Defense stays until scored on, or makes a mistake. Offense would then go to D. (4) Scoring = Defense gets 1pt for a stop and 5pts for taking a charge. Offense gets 2pts for an 0 board and 1pt if fouled on a shot. (5) Losers Run
Circle Closeout Drill (Diagram 3a):
Objective: Strengthen close-outs, communication, rotations, rebounding
Description: (1) 4 Shell lines. (2) Defense jogs in circle around Coach with the ball. (3) Coach passes ball out to any Offensive player and ball is live. (4) Closest Defender closes-out on ball and others match-up. (5) Play out possession. Defense gets 10 pushups if scored on or mistake and/or 5 pushups for giving up on O board.
Powerball (Diagram 3b):
Objective: Developing a Rebounding Mindset and Toughness
Description: (1) 5on5 live in the half-court. (2) Offense stays until defense gets the ball. (3) No out of bounds on made or missed shots. (4) Ball is live on all made baskets. Example - if offense rebounds a made basket, they may quickly put it back in (unlimited number of times) until defense gets it. (5) Scoring = Regular game scoring, plus 1 point for any O board. (6) Losers Run.
---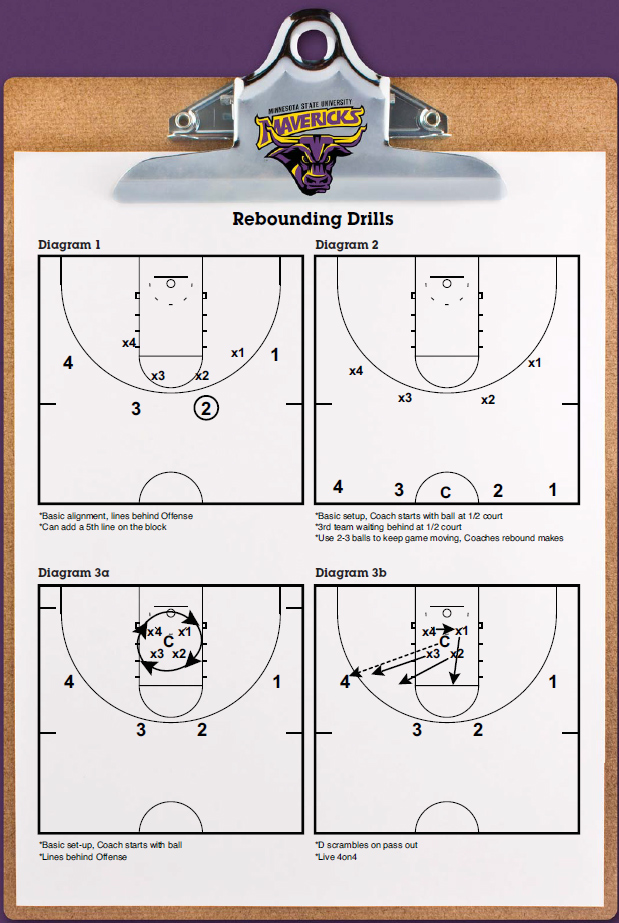 ---
Matt Margenthaler is in his 14th season as the head coach at Minnesota State University – Mankato. He has led the Mavericks to eight seasons with 20 or more victories and his 2013-14 team finished with a 30-5 won-lost record, the most wins in a single season. Minnesota State earned seven straight NCAA berths from 2004-05 through 2010-11 and also earned berths in each of the last two seasons. Margenthaler's career won-lost record is 284-115 for a winning percentage of 71.1. He is a member of the NABC board of directors representing NCAA Division II.