Developing a Selfless Effort
By: Chad Warner, Head Basketball Coach - 2012 UPS NAIA Division 1 Coach of the Year
Originally Published - Time-Out Magazine - National Associationof Basketball Coaches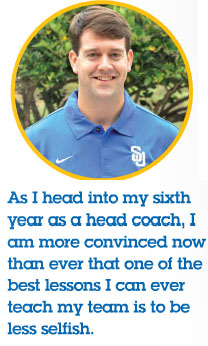 Selfishness is usually an idea that is focused on the offensive end of the floor - and rightly so. However, we think that defensive selfishness is just as relevant and detrimental to our overall success as a team. Some defensive players only worry about stopping their man and that idea kills our concept of team defense. It is with that in mind, that we usually drill 4-on-3 Contest every day we work as a team. We want our players to truly understand the concept of TEAM DEFENSE and the importance of covering or helping each other.
Although we play mostly man-to-man defense, we stress that we play a man defense with zone principles. In other words, we play the all man up and make sure our help defense zones up and allows up to SCRAMBLE back to a solid formation. Anytime someone is beaten in man-to-man defense, your defense will have to be able to SCRAMBLE. We believe that 4-on-3 Contest works this idea as simply and as effectively as any drill we use.
Our rules are fairly simple.
Offense is passing the ball quickly to get the first OPEN look

Defense must rotate to stop the ball and anticipate help (communication is key)

ONE DEFENDER NEVER GUARDS 2 PASSES IN A ROW - must trust their teammate to rotate for them

When shot does go up it must be contested

There must be three box outs - only player other than than the defense who can rebound the ball is the 4th offensive man who isn't boxed out.
We usually go for a set amount of time or try to get a certain number of missed shots. However, what we are really looking for is great effort/trust/communication. As we progress in the drill, we allow dribble penetration. We hope that it fosters great team defense and selfless players.

1. Four (4) STATIONARY Offensive players versus three (3) SCRAMBLING defenders. The coach passes the ball to an offensive player to initiate the drill and then he is no longer in the drill. (Diagram A).
2. Closest Defender ALWAYS GUARDS THE BALL. Other two defenders then move to anticipate where the next likely pass will occur (Diagram A).
3. As the ball is passed (initially we DON'T allow dribble-offense remains stationary), defense rotates or scrambles to stop/guard the ball first and the other two men move in the direction of the ball anticipating their next help rotation. (Diagram B and C).
4. On a skip pass of any kind, there is NO SET ROTATION. We want the closest man to take the ball and TRUST their teammates recover behind them. This is initially the most difficult thing for us to comprehend, but it ultimately becomes the key to our defense. We must always react to stop the ball and then sprint our help positions. (Diagram D - notice the rotation looks different)
Chad warner is in his sixth season as head basketball coach at Shorter University in Rome, Ga., and also serves as the senior associate director of athletics. In his first five seasons, Warner has led the Hawks to 108 wins, including a 34-3 won-lost record in 2011-12 while reaching the Fab Four in Division 1 of the National Association of Intercollegiate Athletics. Shorter has now moved to NCAA Division II as a provisional member of the Gulf South Conference.