By: Loren Landow & Chris Jarmon
Originally Published in: All – Pro Performance Training 
Provided by: Human Kinetics 
Much like defensive backs, wide receivers need lower-body explosiveness, sprinting acceleration, and top-end speed, all in spades. Unlike defensive backs, however, receivers are expected to display these skills both in their route-running ability and in their execution of positional drills.
GAUNTLET
The receiver starts facing quarterback number 2 (figure 5.7). To start the drill, he flips 180 degrees to face quarterback 1 and catches a pass from QB 1, then drops the ball and flips back again to catch a pass from QB 2. As soon as he catches this second pass, he drops the ball and sprints the width of the field across the designated yard line.
Five more QBs are spaced across the field on alternating sides, each QB 5 yards back from the receiver's running path. They alternate throwing passes to the wide receiver as he sprints across the field. First he turns to his left, securing the pass and then dropping the ball as he continues sprinting. He catches four more passes, turning back to his right, left, right, and left again. After catching the final pass from his left, the receiver tucks the ball and turns to sprint upfield along the sideline.
SIDELINE TOE-TAP
The sideline toe-tap drill (figure 5.8) aims to gauge a receiver's ability to maintain body control and make difficult catches in tight spaces. The player lines up at the numbers with a coach directly across from him and a quarterback roughly 7 yards behind the wide receiver. At the coach's signal, the wide receiver takes a jab step and then opens back toward the quarterback while sprinting toward the sideline. The quarterback lofts in a pass near the sideline; the receiver secures the ball with two hands, "walking the chalk" by getting both feet down barely in bounds.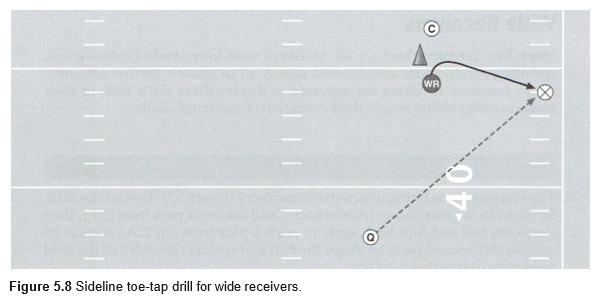 OVER-THE-SHOULDER ADJUST
The over-the-shoulder adjust drill (figure 5.9) gauges the simple, albeit difficult, skill of adjusting speed and position to catch a ball thrown over one's shoulder. With the prevalence of back-shoulder throws in the NFL, manipulating body position and maintaining hand-eye coordination to "high point" the ball (catch the ball at the highest point possible) is critical for receivers.
The receiver begins lined up just inside the numbers, with a quarterback in the middle of the field at the same yard line as the receiver. At the quarterback's signal, the receiver runs a seam route straight down the field, and the quarterback fires off a deep pass; the receiver then must maintain his stride while locating the ball over his shoulder and making the catch. Upon making the catch, the receiver turns upfield and continues sprinting until the coach's signal.