Plan a Better Off-Season Football Workout
By: Joe Giandonato
Provided By - Stack.com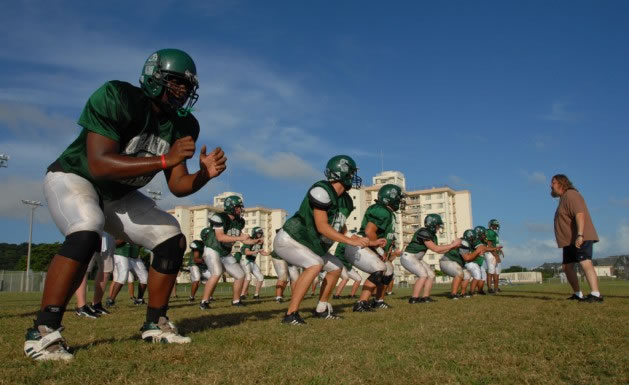 The start of off-season conditioning is an important time for football players. This is when they can really commit to curing last season's weaknesses with time in the weight room.
To make next year better than last, players and their strength coaches should conduct a needs-based analysis. Doing so will help define improvements that are necessary from both a team and an individual standpoint.
A proficient needs-based analysis should include the following:
Input from Position Coaches. As soon as the season concludes, talk to your position coach for his feedback on where you need to improve. A head coach may note that players struggled in the fourth quarter as they grew tired, whereas a position coach can provide specific advice—e.g., number 42 needs to be more explosive off the line, or number 80 has trouble maintaining top speed in his runs.
Individual Injuries. Before any weightlifting program can be drawn up, strength coaches and players must look at individual injury patterns. Their analysis should result in the establishment of prevention routine within workouts.
Team Strategies. The main goal of an off-season conditioning program is to improve players' readiness to perform on the field when the season starts. Thus, program design must include the coaching staff's team strategies. For instance, if a team runs a no-huddle spread offense, the players must be in top cardiovascular shape before the first day of camp.
Player Performance. If players were getting pushed around at the line of scrimmage, the linemen need to dedicate the majority of the off-season to strength training.
Logistical Parameters. A strength coach and a player could create the best program ever, but it won't be successful if the athlete cannot perform it. The available facilities, equipment and personnel needed for a plan's success should influence the program design.
Meeting the Demands of the Sport. Football requires immense physical preparation. Premiums are placed on size, strength and speed. Each quality needs to be prioritized within blocks of off-season training. Developing foundational work capacity—aerobic, alactic, and anaerobic—along with strength training will armor players against collisions during practice and games.
Head Coach's Approval. The final step before finalizing a program is securing the head coach's signoff. Strength coaches and players must ensure that program goals and strategies are in line with the head coach's vision for the season ahead.

Designing an Off-Season Program
The best approach for football players who do not play another sport is linear. This allows athletes to fully address the velocity demands of football. To establish their work capacity, these attributes should be developed in the following order: maximal strength, speed-strength, power, speed-strength and speed.
The work can begin a week or two after the season ends. Each week, volume should be progressively increased. This will consist of:
High rep hypertrophy protocols. Bench Press, Squat, Overhead Press, and Barbell Romanian Deadlift, performed in sets of 12 to 15 repetitions.
Olympic lift variations incorporating a top-down approach. Barbell Overhead Squat with a snatch grip, Barbell Front Squat with a clean grip, performed with a lightly loaded bar. Accessory movements can include rowing, pulling and pressing exercises, in a similar rep scheme. Limit rest between sets to one to two minutes to enhance muscular endurance and increase lactate thresholds.
Bodyweight exercises. Push-Ups, Pull-Ups, plyometric movements
Conditioning work. Low intensity tempo runs performed up to 200 meters. Recreationally engaging in other sports, like basketball, is encouraged to build aerobic endurance. (See also Increase Football Speed, Part 1: Why Jumping Rope Is the Perfect Speed Workout.)

Sample Training Day
Neck
Aerobic or Dynamic Warm-Up
Barbell Romanian Deadlift: 3x12
Perform in alternating fashion:
B1) Barbell Front Squat 3x12

B2) Banded Terminal Knee Extension
Perform in circuit fashion:
C1) Weighted Hip Thrust 3x15 (use barbells, plates, dumbbells, sandbags, chains, or bands with torso elevated on bench)
C2) TRX or Swiss Ball Leg Curl 3x8-15
C3) Banded Ankle Traction: 3 sets
Core work
Conditioning: 5 x 200-meter runs at 70% of max with 2:30 rest
Foam Roll and Stretch
Photo: www.kubasaki-bbs.com


Joe Giandonato - Joe Giandonato, MS, CSCS, is the head strength and conditioning coach at Germantown...