2 Essential Workout Tips for Offensive Linemen
By: G.R. Hoff
Provided By - Stack.com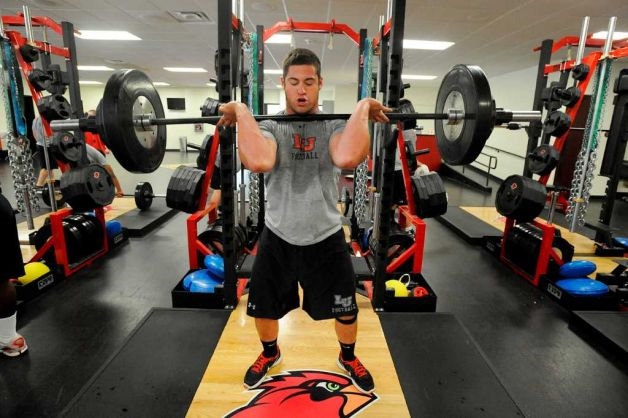 Offensive linemen often get overlooked during off-season weight training. The big guys up front either get stuck training with the skill position players (who have totally different needs and goals), or, worse, thrown into whatever powerlifting or bodybuilding workout their coach just read about. Neither of those approaches is designed to help you explode off the ball, drive block, pass protect or do any of the other things O-linemen need to do.
There is a better way. With two simple changes, offensive linemen can make their workouts more blocker-friendly. If you're playing in the trenches, the following tips will not only build strength and size, they'll help you become a better tackle, guard, center or tight end. (Learn more about what coaches look for in offensive linemen.)
Tip 1: Perform Explosive Medicine Ball Throws
O-linemen wage a constant battle throughout each game, one that requires them to press explosively, hand fight and try to deliver that first blow against an opponent. Medicine ball throws closely mimic the movements you make on the field. Linemen should perform position-specific throws in two different ways.
Explosive Chest Throw
Start in a half-squat position, holding the ball between your hands at chest height. Hold this position for five to 10 seconds, then explode forward, forcefully throwing the ball as hard as you can. Your feet should leave the ground as you jump forward. This exercise will feel similar to pushing a defensive tackle off the ball.
Sets/Reps: 3x4-6
Repeated Chest Throws
This movement simulates the hand-to-hand combat of making repeated blows against a defender. Once again, you start in a half-squat position holding a medicine ball (preferably one that bounces), but this time you stand near and facing a wall. Explosively throw the ball against the wall in a continuous fashion, making sure to not sacrifice technique for speed.
Sets/Reps: 1x6-20 in 6-12 seconds
Find more med ball exercises.
Tip 2: Spend More Time Squatting
When you get down to basics, most of your job as an offensive lineman is to move or resist the movement of an opponent who has the opposite goal (to push you in the other direction). So your success hinges on your ability to produce force from a dead stop as quickly as possible. The following two adjustments to traditional squats will help teach your major muscle groups to do exactly that.
Paused Front Squat
Stand at a squat rack loaded with a relatively light weight. Get into position to perform a front squat, securing the bar across the shoulders. Descend into a full squat, then pause at the bottom position, holding there for a three-count. Keep your leg muscles engaged and active throughout the pause. Finally, explode upward as forcefully as you can to finish the rep.
Sets/Reps: 3-6x4
Dead-Stop Squat
You can perform front or back squat versions of this exercise, though front squats are preferred. Set the pins in your squat rack so that your thighs are just a few inches above parallel in the starting position. Get in position under the bar, then explode upwards with the weight. Make sure to engage your muscles before each rep by tensing against the bar. It's important to reset for each rep. If you bounce the weight off the pins, you're completely defeating the purpose of the exercise. Load these up pretty heavy once you can perform the movement with proper form.
Sets/Reps: 2-6x5
Add these moves as accessories to your main lifts like traditional Cleans, Deadlifts and Squats. And change up which one you do by workout. So if you work on your lower body two days a week, perform Paused Front Squats during workout one and Dead-Stop Squats in workout two.


G.R. Hoff - G.R. Hoff is the owner and head sports performance coach at Dungeon Strength...