Perimeter Plays vs Zone 

By: Sylvia Hatchell - UNC
Originally Published in: WBCA Offensive Plays & Strategies - Human Kinetics
Baseline
---
Objective
To capitalize on great shooters at the wings.
When to Use
Against all zones.
To flatten a zone into a 2-3.
Key Personnel
You need excellent shooting guards at the wings.
Execution
1 dribbles between the two players at the top of the zone. 2 and 3 move up the sideline slightly to be open for a pass, and 4 and 5 post up. 1 passes to whoever is open or dribbles back out to try again (figure 1).


If 2 or 3 receives the ball (in this case 2), she must read the defense. If 5's defender stays low, the wing has an open shot. If the defender comes out on 2, 5 should be open for a post feed. The wing also can skip the ball to the opposite wing, or if the defender at the top of the zone drops to cover the wing, 1 should cut into the open space for the pass (figure 2).

Points of Emphasis

Having players in the corners forces any zone to flatten out into a 2-3 formation. The ball on the wing creates a dilemma for 5's defender. If the defender goes out to guard 2, 5 should be open for a post feed. If she stays on 5, 2 has the open shot.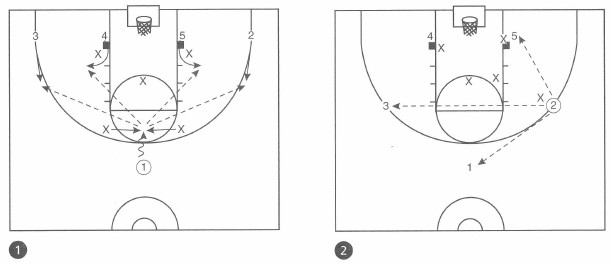 Overload
---

Objective
To have more offensive players in an area than there are defenders, presenting a 3-on-2 or 2-on-1 situation.
When to Use
Against all zones.
Key Personnel
The 1 needs good range from the corner. The 4 and 5 should work well from both the elbow and the block. The 2 and 3 should have three-point range and be able to drive to the basket and make crisp skip passes.
Execution
1 passes to 2 and then cuts to the ball-side corner through the center of the lane while 3 moves to the top of the circle (figure 1).

2 can shoot, drive, or pass to 1 in the corner, 5 posting up, 4 in the high post, or to 3 at the top of the key (figure 2).

If 1 receives the ball and doesn't shoot, she can pass to 5 posting up, to 4 who's posting up or cutting to the basket, skip it to 3, or pass back to 2, who has the same options as before (figure 3).


If the ball reverses, from 1 to either 2 or 3, 1 cuts to the opposite corner, 4 and 5 cut diagonally to the opposite elbow and block, respectively, and 2 spots on the perimeter midway between the wing and the top of the circle, and the play continues (figure 4).

Point of Emphasis

The 1 will usually be wide open in the corner.