Out-of-Bounds Plays

by Women's Basketball Coaches Association (WBCA)

originally published in WBCA Offensive Plays and Strategies





Basketball is generally a continuous-action sport, with play transitioning from offense to defense and defense to offense even after a team scores unless an opponent presses. The exceptions are when a period ends, when an official calls a foul, when the ball goes out of bounds, when a time-out is called, and when an unusual stoppage of play is required. At these times teams can set up a play for their offense with the luxury of an idle defense.
As any basketball coach knows, out-of-bounds plays can significantly affect the outcome of a game. Not counting the inbounds passes that follow a score by the opponent, a team might inbound the ball one to two dozen times a game. Assuming each possession is worth only two points, a team could easily score 20 to 40 points a game off the sets—certainly enough to win or lose the contest.
A team can take the ball out-of-bounds virtually anywhere on the court along a baseline or sideline. The sets in this chapter address each possible scenario, but in every case the inbounds player must be able to read the defense, determine its set, and call a corresponding play.
The plays in this chapter cover every conceivable inbounds objective: scoring or getting the ball in safely, featuring every player on the court in at least one set or option, with just a few ticks or many left on the game clock and shot clock, both against man-to-man and zone defenses, when the offense has a significant size mismatch at a particular position, when a defending post player is in foul trouble, and for layups and three-pointers and everything in between.
The fundamentals of basketball remain important on out-of-bounds plays—great decision-making, precise passing, posting up, screening, finishing in traffic, outside shooting—although different plays require these skills to varying degrees.
An important consideration when compiling your repertoire of out-of-bounds plays is, to the extent possible, they have similar initial alignments prior to live action. Obviously, if each inbounds play calls for a different setup, the opponent will be tipped off on which play you're planning to run.
Another strategy when designing out-of-bounds plays, especially those underneath the offensive basket, is to create as much nonpositional screening as possible, meaning a post screens a guard's defender or vice versa. This makes it more difficult for the opponent to switch defenders or to guard effectively in the resulting matchup.
BIG GUN

Audra Smith

Objective
To isolate a post player for a quick layup under the basket.
When to Use
• When only a few seconds remain on the shot clock.
• Against a man-to-man defense.
Key Personnel
Your 4 is your best passer. Your 5 is your most aggressive post player, good at pinning and sealing the defense. Your guards must be good shooters so the defense must guard them tight on the perimeter.
Execution
5 turns and sets a strong screen for 3, who pops out to the three-point line, while 2 pops to the opposite corner and 1 pops to the top of the key. 5 immediately seals her defender, and 4 passes directly to 5 for the layup (see the figure).
Points of Emphasis
The 5 must set a good screen for 3, who must wait for the screen and then come off it as if she's about to get the ball. The 1 and 2 also sprint to their positions with intention. The play breaks down if 3 moves before the screen is set and 5 does not seal the defender.
BLAST

Audra Smith

Objective
To get 2 a quick shot, 3 a short corner 'jumper, or 4 a post-up opportunity.
When to Use
At any time in the game against a man-to-man defense.
Key Personnel
Your 2 is your best shooter. Your 3 is a strong guard who can come off screens hard.
Your 4 is a great post-up player and your 5 a high-post threat; both should be good at setting screens.
Execution
2 comes off a double screen by 4 and 5 as 1 rotates over to the opposite wing. 3 hits 2 for a quick shot (figure 1).

If 2 is not open, she dribbles toward the top of the arc and reverses the ball to 1. 4 and 5 move down to the block to set a double screen for 3, who curls to the corner. 1 looks to hit 3 for a layup or on the baseline for a jumper (figure 2).

If 3 doesn't have a scoring opportunity, 4 curls off 5 to the opposite block and posts up, looking to score, and 5 moves to the high post looking for a pass (figure 3).
Points of Emphasis
The play's success is determined by the screening, the scoring ability of the players, and timing. The 2 must go shoulder to shoulder with her teammates to get open. The 4 and 5 must move to the block quickly to set up the double screen for 3, who must be patient and not come off the screen too soon. She might have a mismatch if the defender on 4 or 5 picks her up off the screen. If so, 4 might also benefit from a mismatch. The 1 must have the ball as 3 is curling off 4 and 5. The 5 must be patient to allow 4 to curl before going to the high post.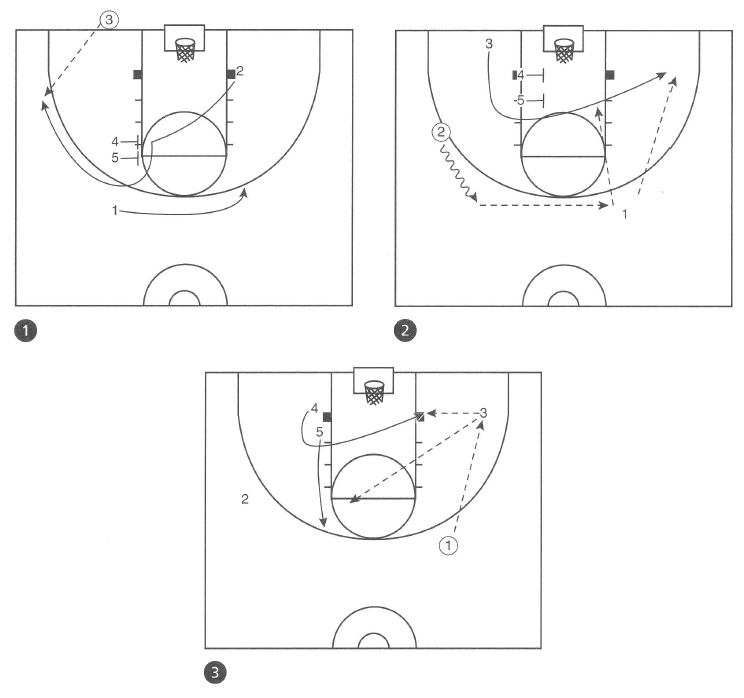 CHOMP

Audra Smith

Objective
To obtain a quick shot for 1, a three-pointer for 2, or an eventual look for 3.
When to Use
Against a man-to-man defense.
Key Personnel
The three guards must be proficient at shooting and in reading and setting up screens.
Execution
1 sets a screen for 2, popping to the corner before rolling off a double screen by 4 and 5. 3 inbounds the ball to 1, who looks for an immediate jumper (figure 1).

If 1 is not open, 4 and 5 set a stagger screen for 2, who receives the ball from 1 above the arc for a three-point shot (figure 2).

If 2 isn't open, 4 and 5 double-screen on the block for 3, who receives the ball in the short corner from 2 (figure 3).

If no shot opportunity arises, 4 goes to the high post and 5 stays on the low block for a high-low option (figure 4).

Points of Emphasis
Ideally, this play is designed for the 1 to get a quick bucket, considering the defense must fight through a double screen by two post players, but its most important aspects are timing and screening. Posts must set solid screens, but not too soon, and guards must brush tight off the screen to lose their defender.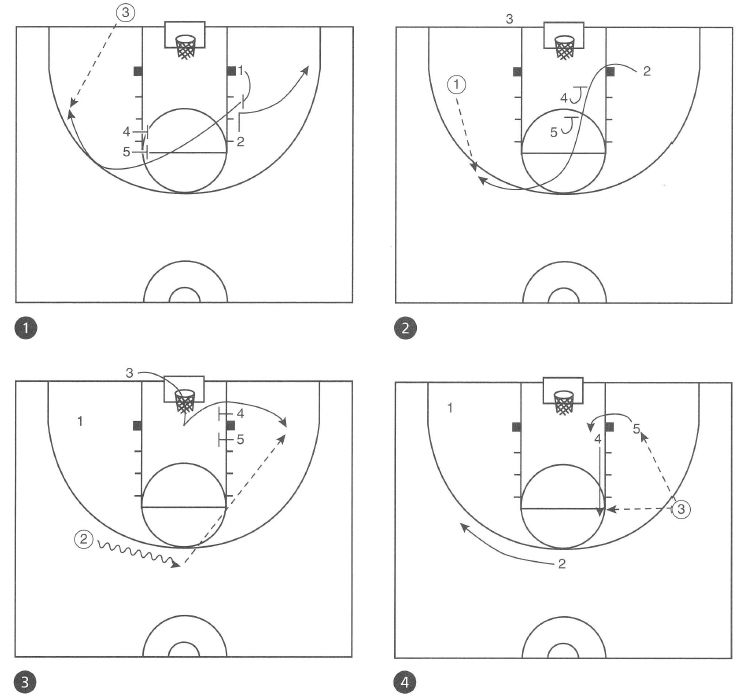 DOUBLE UP

Audra Smith

Objective
• To get a layup for 5 or an immediate jumper for 3
• To provide multiple scoring options.
When to Use
• Against a man-to-man defense at any point during a game.
• With a dominant post player and good perimeter scorers.
• Against opponents that have trouble defending screens.
Key Personnel
This play requires three good scorers who set up and read screens effectively. Your 5 must be able to set good screens.
Execution
3 sets a strong back screen for 5, who comes off looking for the layup. 3 then comes off a screen from 4, looking for a jumper on the wing (figure 1).

If neither opportunity exists, 3 reverses the ball to 4, who swings the ball to 1 coming up from the corner (figure 2).

2 has the option of heading to the top of the key off a stagger screen by 3 and 4 or to the opposite corner off 5's single screen (figure 3).
Points of Emphasis
All three aspects of screening are critical to the success of this play: the technique of setting the screen, the timing of the screen, and using the screen.
WBCA Offensive Plays and Strategies book is published by Human Kinetics.