Amherst 2 on 2 Drill

By: Dave Hixon
Originally Published in The National Association of Basketball Coaches - Time-Out Magazine
Object:
Part of a warmup (second, third or fourth drill of a practice) — this is a great teaching drill for defense; offense; reading and setting screens; hi-low; inbounding vs. pressure; transition; trapping and breaking traps; and dribble drive basic concepts.


Diagram 1:
O's plays 2 vs 2 against the D's. The X's are stationary "Free" outlets/passes — foul line extended.
Diagram 2:
If the D's steal, cause the O's to turn the ball over or rebound a missed shot (ball still in play), the D's outlet to X (1 or 2) and replace the X's, who pass to next O's in line and O's on the court become D's. The X's (1 and 2) sprint to the other end of the court and come back in line. O's become D's/D's become X's and X's join the line after their sprint.
Diagram 3:
If the ball becomes Dead (O's score or turn it over out of bounds), D's quickly take it on the end line (can only pass to another D) and O's quickly transition to D's and pressure/deny inbounds pass. Once the ball is inbounds, D's can pass to outlet X's or reverse back through other D and out the other way.
Diagram 4:
X (1 or 2) passes to outlet who then passes to next 0 in line stepping forward and the new D's (the original O's) close out hard and we are playing 2-on-2 again! X's sprint to the other end where assistant coach or managers can have them shoot a variety of shots and then they fill back in the 0-line. Once the players understand the basic rotation, they will compete hard and fast. You can emphasize a variety of things — from always jumping to the ball, properly closing out, trapping the inbounds pass, etc., on defense and dribble at with backdoor/handoff, proper screening on ball or off ball, breaking the trap, etc., on offense.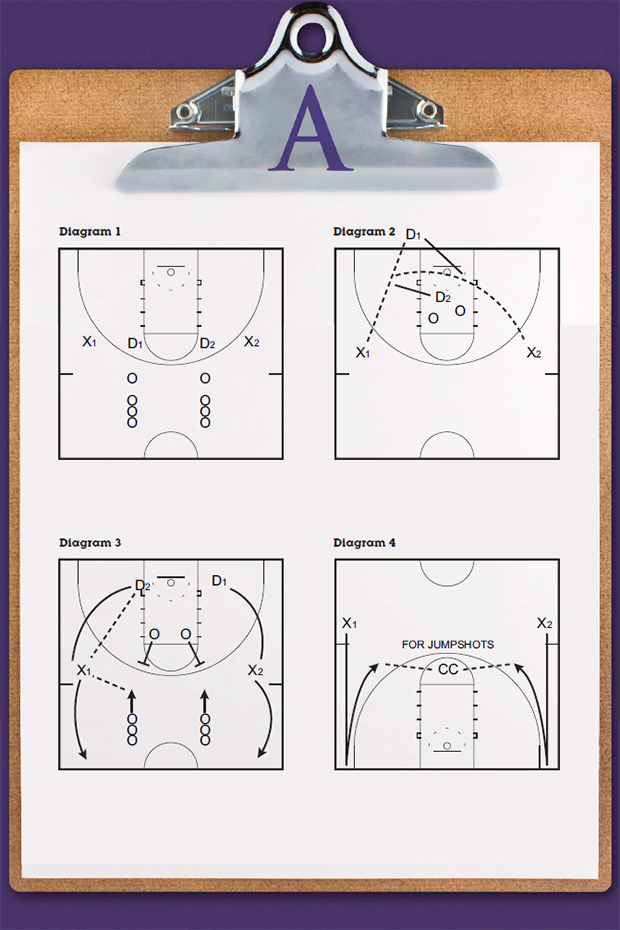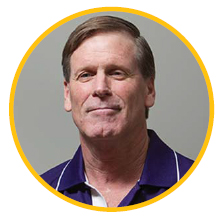 In his 37th season as head coach of the Lord Jeffs, David Hixon entered the 2013-14 season with an overall won-lost record of 693-252, a winning percentage of 73.3. His teams won a NCAA Division III championship in 2006-07 and again last April in Atlanta,finishing both of those seasons with a 30-2 record. Amherst has averaged 25 wins per season since 2000-01 and has been ranked in the D3hoops.com Top 25 for 104 consecutive weeks.