By: Thomas Durkin
Originally Published in: Attacking Soccer
Provided by: Human Kinetics
Purpose
Developing coordination and timing for runs and service to the box and establishing signals for communication.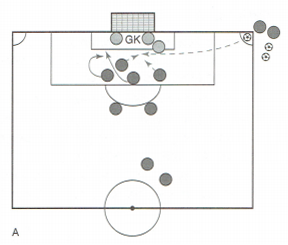 Organization
Set up play on half of a standard field. There are 10 offensive players: 2 players to work out the in-swinging and out-swinging service from the corner arc, 4 to 5 players to cover the areas for runs in the box, 2 players positioned outside on the perimeter of the goal area, 3 defenders, and an opposing goalkeeper.
Procedure
Play starts with a corner kick.
Allow the servers frequent repetition of service from both the right side and left side of the pitch. Determine the best area for serving the ball that will be consistent.
Develop a signal from the server for a near-post service (diagram A) and a far-post service (diagram B).
Work to coordinate, sequence, and time the runs in the box to the designated areas.
Address the quality of the cross pass and finishing action. Make sure that the players in and outside the goal box are ready for deflections, rebounds, and clearances.
Key Points
Demand good delivery. It is good practice to over-hit the ball.
Make sure that all the players run the full route to the designated areas.
If it's difficult for the player to convert the cross, they should try to make it easy for someone else.
Variations
Add five more opponents - one on each post and one at the front of the 6-yard (5 m) box. This will increase the difficulty for the servers and affect the timing of runs.
Gradually work from passive to full pressure.
If a serve goes in the goal area, have the keeper box the ball out (see diagram C). The offensive players should be in position to regain possession for a shot on goal.
Try all types of corner kicks from both sides. If the defense gets possession, they try to complete 5 consecutive passes (see diagram D).