By: Dick Bate and Ian Jeffreys
Originally Published in: Soccer Speed
Provided by: Human Kinetics
Purpose
Back-four sliding
Organization
Set up half of a regulation field and position two teams of four as shown in the diagram. Position a goalkeeper in the goal. One player on the team closest to the center line starts with the ball.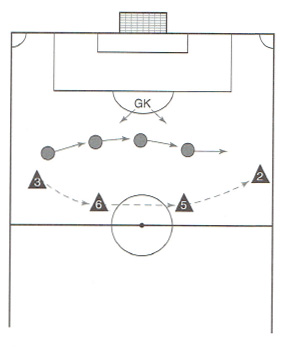 Procedure
The back-four move the ball quickly from one side to the other (it is not essential that all four players receive the ball when transferring the ball from one side to the other).
Passes may be made using two touches and, in some instances, one touch.
In response, the other defending team of four should slide together as a unit, keeping their distances uniform and changing the shape of the line appropriately for the speed and direction of the passes being made.
The goalkeeper must support and "sweep" the central area behind the back line. As the practice develops, he or she can also be involved in changing the ball across the field with the feet.
As an extension to the practice, both teams can have a goalkeeper who is involved in changing the play from one side to the other by receiving passes from a defender and passing to other defenders.
Coaching Points
Be aware of the distance between each other when moving across the field in response to the movement of the ball.
Observe and quickly respond to the direction of the developing play - laterally, diagonally, and horizontally - as the team in possession passes the ball.
Know exactly where other members of the back-four are positioned as the unit moves, and communicate when necessary to keep the required distances between the players.
As the unit responds to the ball movement, work using the manta: move together, stay together, arrive together.