By: Dean Wurzberger
Originally Published in: Attacking Soccer
Provided by: Human Kinetics
Purpose
Crossing the ball and making coordinated runs from midfield into the penalty box to finish.
Organization
Set up play on half of a standard field with two lines of players near the center circle and another player (midfielder) facing each line 10 yards (9 m) away. Three wide attackers are positioned on each wing, with one of the three positioned as a target player on the goal line (left-footed players on the left and right-footed players on the right). A goalkeeper is in the goal.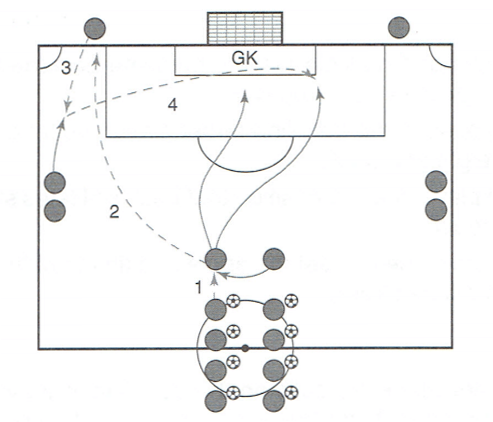 Procedure
The first player in one line passes the ball to the midfield player facing him
The midfielder stops the ball on the spot to set it up for the other midfielder, who comes across and passes it long down the wing to a target player.
The target player controls the ball quickly or lays it back first time toward the wide attacker, who is approaching in an attempt to cross the ball with one touch.
The two midfield players make runs into the penalty box to finish the cross.
The first players in each line move up to become the new midfielders, wide players rotate so there are two new target players at the goal line, and the original midfielders take their place at the end of their lines.
The next repetition uses the same sequence but to the other side.
Key Points
The servers and midfield players combine accurately to set up the long through pass down the wing.
The long pass to the goal-line target player must be played with the proper weight and angle.
The wide player takes a position that best facilitates striking the cross with one touch.
The runners in the box set the angle and timing of their runs to when the cross will be struck.
Variations
Add servers with extra balls on the goal line to provide a pass for a finishing opportunity for the player who did not meet the cross.
Add a stationary attacker at the far post on each side and have him attack the cross if it arrives in that area.
Have the far-side wide attacker make a run into the box to add another runner to finish the cross.