By: Wade Gilbert
Originally Published in: Coaching Better Every Season
Provided by: Human Kinetics
Coaching Better Every Season - a lofty standard indeed, yet a very attainable one. The time-tested principles and strategies of quality coaching presented in the preceding chapters will undoubtedly help you achieve that goal.
Sure, you will encounter setbacks and challenges as a coach. Conflicts and errors will still occur; tough losses will still come your way. But by consistently and diligently applying the principles, strategies, and practices provided in this book, you will enjoy coaching more and find success through most of your coaching career.
The key is to use what you've learned here and steadily work on improving your skills as a coach and building the right team culture. Continuous improvement and creation of standards, rituals, and routines that build a winning team culture provide a stable foundation for durable success. Jon Gordon, author of several bestselling coaching books and advisor to many coaches summarized it well when he stated, "If you want to win, you don't focus on winning. You focus on the culture, people, and process that produce wins."
If nothing else, I hope this book has given you a greater appreciation of the four seasons of the annual coaching cycle and provided you with insights and tools that will help you be a more effective coach during each of those phases of the year. Whether you remember them as the four Es - envision (preseason), enact (in-season), evaluate (postseason), and enhance (off-season) - or label them something entirely different isn't important. What is essential to success is how you lead and manage your athletes through each period.
Sustainable success comes from evolution, not revolution, a process that both championship coaches and great leaders throughout history have recognized. Franklin D. Roosevelt, considered one of the most influential leaders of the 20th century, realized many significant achievements because "he took a step and adjusted, a step and adjusted. Gradually a big change would emerge." The evidence-supported practices and useful tools provided in this book will help you take a step and adjust, and successfully navigate each of the four coaching seasons.
Initial success, however, will be short lived unless you approach the four sea-sons each year with the same vigor. What worked one year may not work the next. Just ask Stanford football coach David Shaw, who in 2015 became the first head coach in 80 years to lead his school's football team to three conference championships. He recommends that coaches approach each year with a clean slate - refreshed and ready to observe, learn, and grow through each of the four seasons.
Sustaining excellence is within reach for every coach. Even if you never lift a championship trophy in your career, by embracing the timeless principles of success presented in this book you will be Coaching Better Every Season. Moreover, you will coach with more confidence and enthusiasm, which in turn will energize and inspire your athletes.
Coaching is messy and complicated. Certainly, there will be times during each of the four seasons when you feel overwhelmed and unprepared for coping with unexpected challenges. It is during those times that you will most benefit from reviewing the Coaching Better Every Season principles that have helped many coaches successfully navigate the obstacles and upsets that all coaches periodically experience. A concise summary of the Coaching Better Every Season principles is provided in figure C.1. Keep this list handy and review it regularly.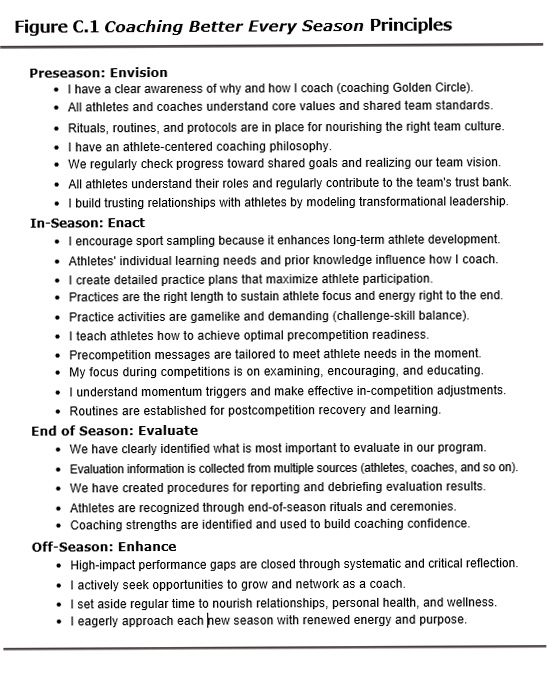 Think of it as your Coaching compass - a tool for keeping you on the right path, the same path the most successful predecessors and colleagues in the coaching profession have navigated each year.
Samuel Johnson, one of the most distinguished writers in history, once said: "The greatest part of a writer's time is spent in reading, in order to write; a man [sic] will turn over half a library to make one book." I have endeavored to bring to you the best of what I have learned about successful coaching through my decades of working with coaches and "turning over half a library" of coaching science and practice. I am hopeful that this book has given you new insights to enhance your effectiveness as a coach.
As you know, the imprint you leave with your athletes and programs will be felt long after you stop coaching. This certainty has been referred to as the 20-year rule, summarized well by a former national champion and Olympic athlete who went on to have a successful career and family life. While reflecting many years later on the influence his renowned high school water polo coach had on his life, he encouraged coaches to "Coach as though your athletes will evaluate you not at the end of the season, nor upon graduation, but 20 years later." And that alone is sufficient inspiration to ensure that we're Coaching Better Every Season.