By: Bob McCreary
Provided by: Baseball By The Yard
One of the many things you need to teach young players as they get older is that there are very few (if any) absolutes in baseball.  There are so many examples of this but today I'll deal with one of them.  It involves the difference between a relay and a redirect.  For this post, I'll use the third baseman as my example, but it could apply to a first baseman and/or a middle infielder as well. When a third baseman sets himself up for a relay throw from the left fielder, he typically goes to about where the X is located as shown here...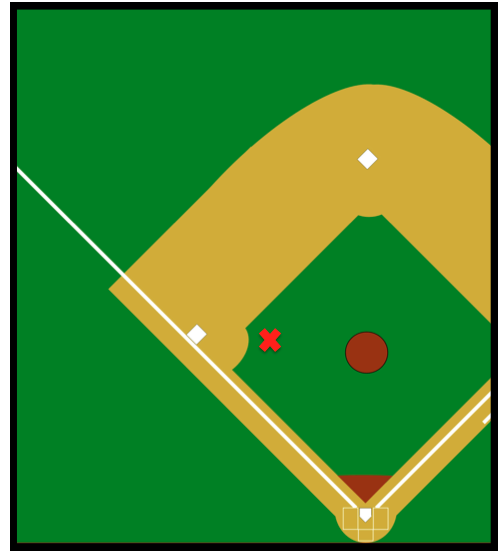 However, that spot should vary depending on two factors - the arm strength of the left fielder and the direction of the left fielder's momentum when he catches the ball.  In reality, the area he should go to looks more like this...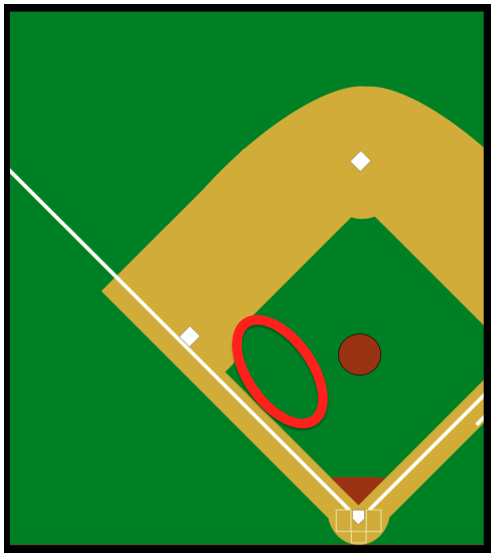 Here are three scenarios that show this.
Scenario #1: The left fielder has to go to his left or right in order to catch the ball before throwing.  Because his momentum is not in the direction of home plate, he will have a tough time getting a lot on his throw.  Therefore, the third basemen will need to be closer to the left fielder like this...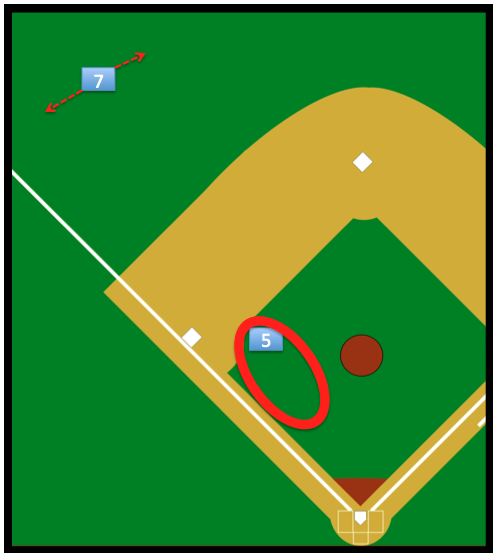 In this case, the left fielder gets the ball to the third baseman who will need to provide the power on the throw to home plate.  This is a relay.
Scenario #2: The left fielder is charging the ball and will have a lot of momentum built up in the direction of home plate.  Because of that, the third baseman should allow the left fielder to use all the power he has generated by backing up and setting up here...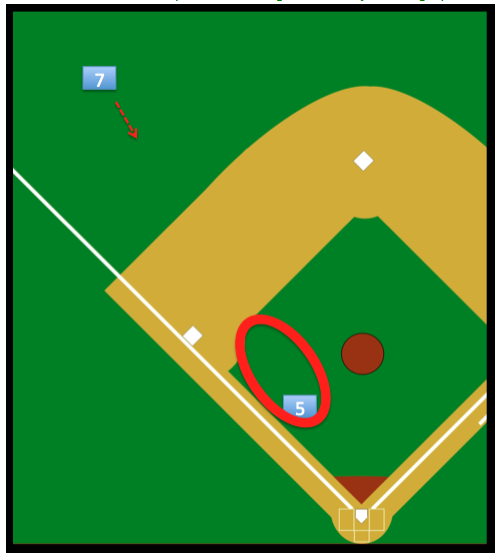 In this case, the left fielder is able to supply the power so the third baseman's job is NOT to relay but only to redirect the throw if it is off-line.
Another example of this would be Scenario #3 where the left fielder has to go back to the fence to get the ball.  The shortstop heads out and typically will be able to supply a lot of power on his relay towards home plate.  The third baseman's job is to again set up here...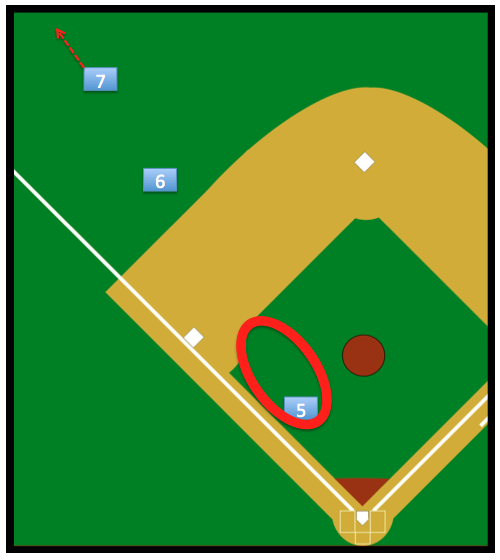 ...and redirect only if necessary like before.
Of course, this can all vary based on the arm strength of the left fielder and the shortstop.  If they both have brutal arms, the third baseman may always need to move closer to them and act like a relay man.  If the thrower has a cannon, he may be able to back up towards home plate more often and do more redirecting.  The key is knowing beforehand how good the arm strengths are.
As coaches, we need to make sure our players know the difference between relay & redirect and understand that where they go is never absolute.