By: Kenny Thomas and DJ King
Originally Published in: Baseball Steps to Success
Provided by: Human Kinetics
Pre-pitch positioning is standard among infielders at every level, although some may vary their positioning based on personal reasons such as lateral range and comfort, or even in-game situations that demand a defensive adjustment. The following is a look at the standard placements for every infielder in a variety of situations (figures 7.1-7.3).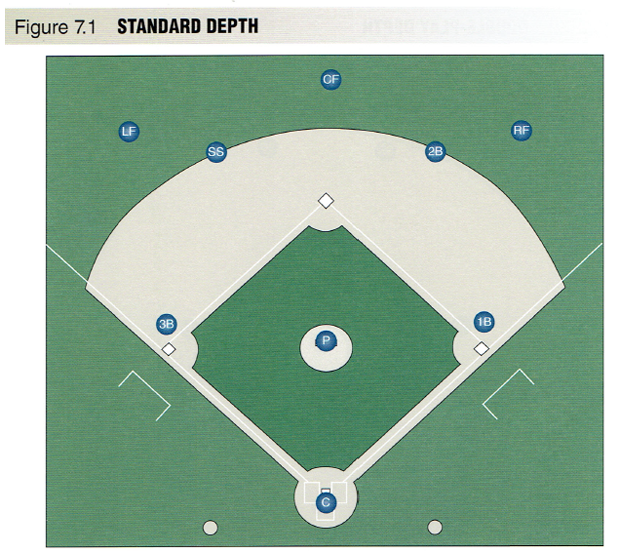 The first baseman and third base-man will be at a depth even with the base and 10 to 15 feet (3 to 4.5 m) off the line.
The shortstop and second baseman will be positioned on the back edge of the infield, approximately a third of the distance of the baseline away from the second base bag.
Depending on game variables, the infielders may shift their positioning slightly in any direction.
The infielders may also choose to shift slightly in any direction for personal preference or field conditions.
MISSTEP
Not knowing the situation can lead to poor positioning. One example of this would be when a fast runner who has a tendency to bunt for a hit is at bat and the corner infielders (the first baseman and the third baseman) remain at standard depth.
CORRECTION
Communicating with other infielders and coaches should help you shift according to each situation.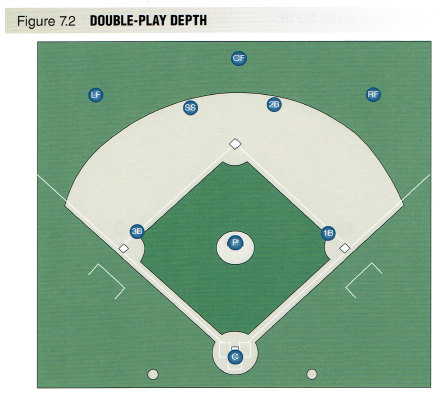 With a runner on first base or with runners on first and third. the first baseman will be holding the runner on base. With runners on
first and second or with the bases loaded. the first baseman will be at standard depth.
The third baseman will be at standard depth.
The middle infielders will be positioned closer to the second-base bag than they are when at standard depth. approximately 15 to 20 feet (4.5 to 6m) away from the base. but at the same angle.
MISSTEP
Depending on the situation. the middle infielders must communicate to each other who is covering second base. Coverage miscommunication by middle infielders gives away potential outs and usually places one or both players out of position.
CORRECTION
You are responsible for knowing your assignment. To ensure that all players are on the same page. continuous communication is imperative.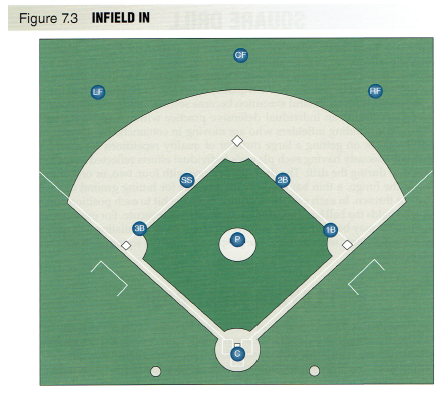 When trying to stop a runner on third base from scoring on a routine ground ball, the four infielders will be positioned on the front edge of the infield.
The corner infielders should be several feet (a meter or so) in front of the baseline. The middle infielders shift over, pinching the gaps between the first baseman and second baseman and between the shortstop and third baseman.
MISSTEP
If the gaps between fielders are not pinched, the hitter has a better chance of hitting a ground ball through the infield.
CORRECTION
The distance between the corner infielders and the middle infielders on each side should be a step and a dive away from the midpoint.