Presented at Meeting of PDA State Coordinators
Congratulations to Mike Ellson, CMAA, Professional Development State Coordinator from Tennessee who was recognized as the recipient of the 2018 Jim Teff Achievement Recognition. Presented by the NIAAA at the September seminar of the Professional Development State Coordinators, the recognition is in honor of Mr. Jim Teff who helped lead the Leadership Training program for twelve years, until his unexpected passing in 2012.
The Professional Development State Coordinators are made up of the individuals in each state that lead the Certification Program and Leadership Training Institute offerings for their respective state athletic administrators association. The Professional Development State Coordinators gather each September in Indianapolis, Indiana, for three days that include a meeting that provides professional growth through exchange of NIAAA information, best practices in states, member portal information, offerings and use of the NIAAA Classroom, coordinator training, new ideas, leadership development and NIAAA initiatives.
We recognize Mike Ellson for his leadership and service offered the Tennessee Interscholastic Athletic Administrators Association, and the athletic administrators of his state.
Past Recipients of the recognition include:
2013 Tom Wilson, CMAA, Wyoming IAAA
2014 Brad Rose, CAA, Iowa HSADA
2015 Roy Turner, CMAA, North Carolina ADA
2016 Don Rothermich, CAA, Missouri IAAA
2017 Fred Smith, CMAA, Michigan IAAA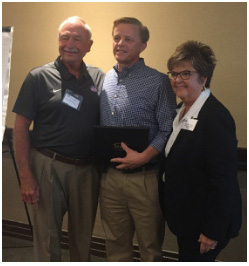 Tennessee's Mike Ellson, CMAA, (center) the state's Professional Development State Coordinator, is congratulated as the 2018 Jim Teff Achievement Recognition recipient by Jim Watkins, CMAA, (left) and Sheri Stice, CMAA, (right) who are both members of the PDA Leadership Team.